Untapped 3 Methods to Search for The Best Keywords on Amazon Japan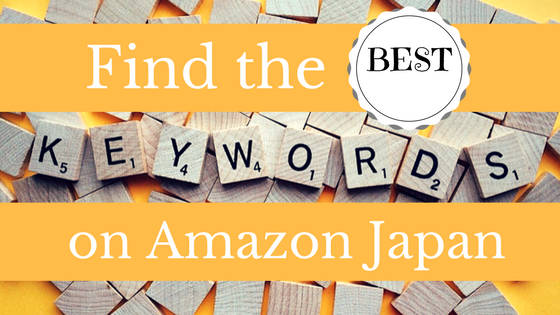 Why Keywords Matter on Amazon Japan
When it comes to selling a product on any e-commerce site, the best marketing strategists always suggest the SEO, Search Engine Optimization, method. It is fact that 93% of all online experiences start with a simple search.
How many searches do you do each day?
I can't count how many times I open chrome and immediately search for something rather than type in a web address. I've even noticed that I generally search up a product based on the features I'm looking for.
SEO practices suggest to find the best keywords for your product, or basically, the most popular words someone would type into a search bar in hopes of finding your best selling item.
"6-Step Guide to The Best Product Title & Description on Amazon Japan" is a thorough step-by-step procedure. I explain how to discover the most popular Japanese characters being used for your product. The article also suggests not spending too much time on finding keywords for the title. Instead, focus on making the title concise.
Although this is still true, it is still recommended to find the best words. That way, your product appear on the first page of Amazon Japan.
Luckily, there are great tools and tips out there to help Amazon sellers. The tricky thing about selling on Amazon Japan is that it is important to use Japanese characters. This can be an obstacle for sellers who are not fluent in Japanese.
A helpful way to communicate with Japanese buyers on Amazon Japan is uncovered in the article, "4 Best Ways to Provide Excellent Customer Service on Amazon Japan."
But if you are not using the most commonly searched words, then all your effort will feel worthless. You need to find out the keywords Japanese customers are searching for.
DO NOT FEAR!
This article will show you a great way to search for the top ranked keywords in Japanese for Amazon Japan.
Detecting the Best Keyword for Your Product on Amazon Japan
There are many great sites that offer data on how often a word is searched for and how it ranks. If you type in "amazon keyword tool free" into your search engine, there are many websites that claim they will give you the data for free. Yet in reality, these sites try to make you sign up for an expensive monthly subscription of their services (example: keywordtool.io/amazon).
I discovered that Keyword Tool Dominator allows users to search for 3 words each day without paying a cent. They help sellers uncover top ranked keywords in Amazon. They also list the top ranked words for each Amazon market, including Amazon Japan.
I'm going to demonstrate how to use the website to your advantage. In the previous article, I was interested in finding out the Japanese characters for DSLR for my camera product.
Method #1
Now I want to see if DSLR is the most popular searched-for description for cameras within Amazon Japan. When I go to the main address, I will choose the option 'Amazon Keyword Tool.' Then I will copy and paste the Japanese characters for DSLR and make sure I am searching for this keyword in amazon.co.jp (the website address for Amazon Japan).

Now I click on the magnify-glass to uncover the results.
As it turns out, just having DSLR as a search word provides 0 rankings. The most significant rankings are given to the DSLR cameras that either relate to the product's model or DSLR cameras with wifi (which is listed at the bottom of the search).
So if the DSLR camera I am selling has wifi capabilities, it would be advantageous for me to list that feature after the Japanese characters for DSLR.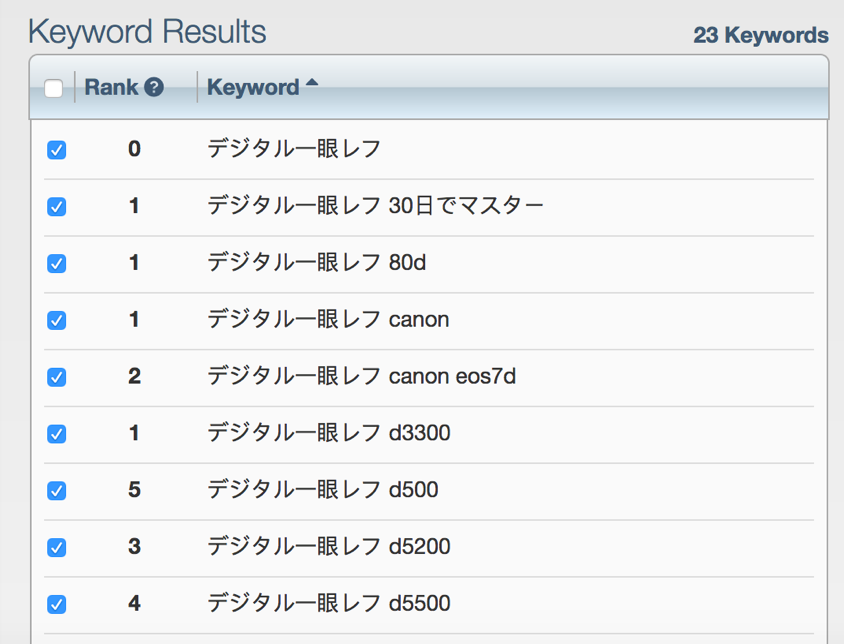 I still have two more searches for the day. I could then test to see if Japanese buyers are searching for a small DSLR camera or if they are searching for a specific lens size.
Method #2
Another simple method is by using Amazon Japan's Autosuggest within their store's search bar. The reason why Practical Ecommerce recommends this method, is because most Amazon keyword tools take words from Amazon's Autosuggest list and then reveal the data behind what consumers end up clicking on. If I go to amazon.co.jp and type in デジタル一眼レフ into the search bar, eight popular keywords highlighted in bold appear below.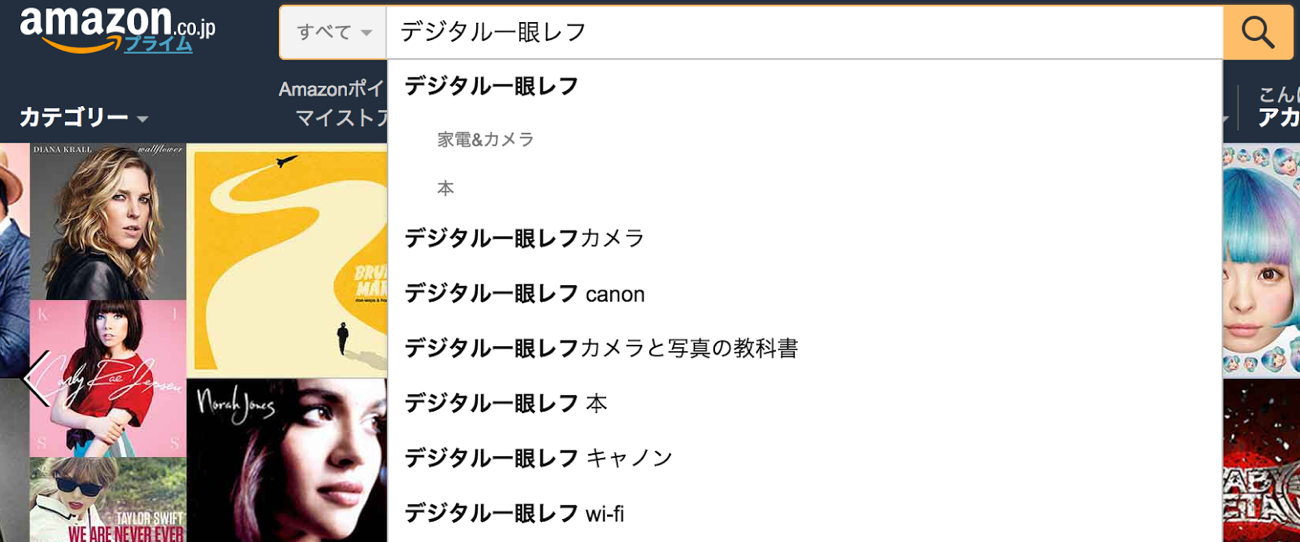 I will click on the second auto-suggested word, デジタル一眼レフカメラ, so I can highlight it. I will then copy and paste the word into Google Translate.
Now, I have just discovered that this is the full word for DSLR camera, not just DSLR. The next suggestion is a DSLR Canon. This tells me that many people are interested in the cameras that Canon makes.
Method #3
The first article's tips show you how to uncover what your product is in Japanese. It shows you how to use the Autosuggest bar in Amazon Japan to find the best keyword for your product.
You can also click on the category search option, located to the left of the search bar in Amazon Japan. If you need to translate the page, be sure to use a browser that offers language translation, such as Chrome.
You can then find the category your product would be classified under. This can show you what products are being advertised within the category and what their descriptions are in Japanese. That way, you can get a feel for what consumers are looking for within Amazon Japan.
Important Factors When Selling on Amazon Japan
If you think that having the best keyword is going to make you rich on Amazon Japan, then think again. You will need to make sure that you keep up a good rapport with your Japanese customers. Thus, it is important to learn the customer service expectations Japanese buyers have when purchasing products.
You will also need to make sure your product is being searched for often. Especially when you are starting out as a new seller on Amazon Japan. Amazon.com recommends in their selling tips guide to list your product in a wide number of product categories rather than one or two.
They recommend doing this so that way your product appears in a number of searches. More exposure will lead to more sales. More sales will lead to customers buying other products from you in the future.
If you decide to buy a keyword tool to help you pinpoint the perfect keyword, make sure you are able to search for the keyword in Japanese. Make sure you can also search for it on Amazon Japan, not just Amazon US.
Amazon.com provides coaching services that guide sellers through marketing and selling their product. It would be best to work with Amazon and their coaches. They can provide accurate data on which keyword is most sought out on Amazon Japan.
You can also hire a third-party service that will help market your product to Japanese audiences.
You should consider joining the Fulfillment by Amazon (FBA) program. It is highly recommended for sellers who live outside of Japan to do so. The FBA program allows sellers to store their products in the Amazon warehouse in Japan.
When someone orders their product, Amazon can easily ship it to them instead of the seller. In a 2013 survey conducted by Accenture, they discovered that 26% of consumers in Japan think it is important to offer same day delivery. Japanese buyers might not purchase your product if they notice it takes more than a week for your goods to arrive at their doorstep.
Hopefully this article provided excellent free tips on how to discover the best keywords for your product. The beginning can always be rough, but your profit will soon grow once you start getting sales on Amazon Japan. If you haven't read the first two articles, (6-Step Guide to The Best Product Title & Description on Amazon Japan and 4 Best Ways to Provide Excellent Customer Service on Amazon Japan) in this series already, it is advised you do so since it will provide more insight and other helpful tips.
Founder of GraspBuild and CEO of WANOZEN LLC. Shunya is a web marketing and SEO specialist passionate about introducing energetic companies from overseas into the huge yet seemingly exclusive Japanese market smoothly for their successful business.
Love easy way to success...?
Do you need a help with succeeding in this huge and complicated Japanese market?