4 Best Ways to Provide Excellent Customer Service on Amazon Japan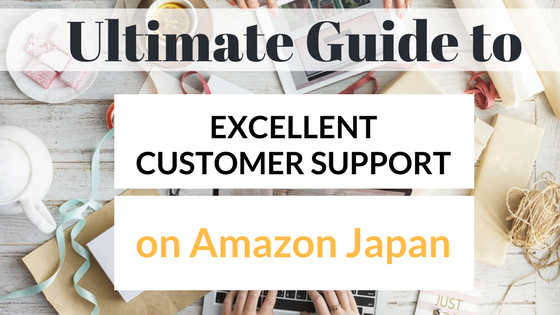 Customer Service Matters
No matter what product you are selling, customer service is an important aspect in every product based business.
What do you do when you're unhappy about a product?
When I'm unhappy about a product, I immediately go to the seller or call customer support. Some people prefer to leave a bad review on your site or social media.
You haven't joined my newsletter yet? Make sure to
Click Here!
In fact, most businesses only hear from 4% of their dissatisfied customers, while the other 91% refuse to buy another product. Not responding in a timely manner or refusing to resolve the issue will result in an unhappy customer. This customer could leave you a bad review or never buy your products again. Here's an example of an upset Tweeter:
Customer service and support is a crucial attribute that every seller must account for. Especially when they are selling on Amazon.com. Amazon already views customer service as a critical asset. They set a high standard on putting customer needs first.
Are you a seller on Amazon looking to sell on different Amazon markets? If you are, you have stumbled upon a great guide on selling your product in another country. This article covers Amazon Japan.
If you read the this article, you learned why it is beneficial to market your product on Amazon Japan. If you are now looking to sell you items on the lucrative site, you will need to know two things:
 How to respond to customer questions in Japanese.
The customer service expectations Japanese customers have
Providing Customer Support in a Foreign Language
Worried that your Japanese language skills are not strong enough to advertise your product?
Unsure how to talk with Japanese customers on Amazon Japan?
Luckily, there are helpful language learning tools available that are more precise than Google Translate. Amazon advises sellers to avoid using automated translators when providing customer service and support to their clients. Google Translate and other automated web translators are not always accurate.
If you do not communicate well with your customers, this could lead to a horrible customer service experience. It could encourage the buyer to leave a bad review. Here is a list of helpful websites and suggestions on how you can communicate with your new customers in Japanese.
1. Online Japanese Language Classes
Thinking about learning the Japanese language?
You should take a look at some of the sites that offer classes or free resources. Udemy.com is a great site for online classes. They feature many Japanese language courses from a variety of teachers. GuidetoJapanese.org offers free resources in learning the Japanese language. Check out their Japanese grammar page if you are interested in learning the alphabet and basic structure of the Japanese language.
2. Lang-8
This is a great site if you are only interested in mastering the written communication between you and your Japanese customers. Lang-8.com is a website that offers a written language exchange between native speakers. It is free to create an account. After you set up your profile, you are encouraged to write a composition in the language you need help translating.
A native speaker of that specific language will come and correct your writing piece. The catch is, you must help other people who are trying to write in your native language too.
Not really interested in taking the time to learn the Japanese language? You could use an automated translator on what you would like to say to your customer and post it on Lang-8. Then a native speaker will edit it. Once they have corrected it, you can send the accurate translation to your customer. You will then feel confident that they will understand what you are saying.
3. Third-Party Customer Support Services
Too busy to learn Japanese or find a web tool that will help you translate your responses? You may want to consider hiring a third-party customer support service.
This is not a bad idea since the customer support service you choose to hire will be fluent in the Japanese language. They can also provide fast and timely service. Amazon highly recommends hiring a third-party to conduct your customer support for your Amazon products. They provide a list of companies for specific countries. The Japanese customer support service they suggest in hiring is Jumbo.
4. Third-Party Localization Services
Localization services are different from translation services. Instead of directly translating what you want to say, they adapt your content and text to fit the cultural preferences and local language. This helps your business reach the customers you are trying to target.
Use a localization translator for your Amazon Japan product page for max results. That way, you will sounds like a local who lives in Japan.
Customer Expectations in Japan
Cultural perspectives and cultural norms are different throughout the world. They are even different within countries! You cannot expect to provide the same exact customer care practices from your native country to everyone around the world.
In Japan, the customer is considered to be god. Business owners make sure the needs and wants of the customer are met with the highest standard.
Your new customers on Amazon Japan will expect the same level of treatment as they do with the other sellers on the e-commerce site.
To make sure they are satisfied, here is a list of the top customer service expectations that Japanese buyers have.
High Quality Products and Services
Selling a high quality product should be the epitome of your business. If you dream of profiting and growing your customer base, your product has to have superior quality.
According to Japan Intercultural Consulting, Japanese customers do not only expect the highest quality products. They also expect your customer service and support to be top-notch too. If they contact you with a question or concern, they expect your response to be thorough. They want you to validate their opinion.
Thus, it is not recommended to send them a mediocre response in Japanese that has not been formerly edited. Otherwise you might get this response:
The buyer could find your unexciting response rude. They might feel as though you do not appreciate their business as a current customer. That's why it's important your responses and written exchanges in Japanese are close to perfect.
Efficient, Timely, and Positive Responses
If a Japanese customer writes to you, respond quickly! It is highly advised by the Japan Intercultural Consulting firm to reply within 24 hours.
Say you do not have the answer to their question or you have more pressing matters. It is still better to send them a quick response that you will get back to them very soon. Buyers in Japan expect a reply back every time they write to you. Even if they are simply complimenting your product.
Therefore, it is better to provide your customers on Amazon Japan with a direct way to contact you. If not, they could lose trust in you if you take too long to reply to their message.
It was also advised by the consulting firm to avoid saying the words "no" or "that is not how we do business."
This is because customers in Japan expect a positive answer to a question or concern. If the response is negative and impolite, the customer will more than likely distrust the seller. Especially when it comes to hearing a customer's dilemma.
Going Above and Beyond
What does customer support mean? It typically implies that when a customer has an issue, the seller or staff will help them solve the problem. Sometimes, the problem might not be completely practical to solve. It could potentially cost the company more money to excessively satisfy one customer with their single issue than provide sufficient support for every client.
However, Hisashi Shimizu, a Japanese Customer Support Manager, brings up an important outlook. He explained that customer service providers in Japan will often go out of their way for the customer without asking for extra compensation.
He noticed in the United States that the customer service culture was different. Most companies were not willing to go above and beyond if it cost them extra money.
He observed the opposite in Japan. Say someone calls a company in Japan to complain about why their product is not working. More often than not, the company will send someone to the customer's house to remedy their aggravation.
Although it will cost the company extra time and money to send an employee to the customer's house, they are willing to do it. This is because they know the customer will expect them. Otherwise, they will lose that customer's trust and satisfaction.
It is greatly encouraged to uphold these three important expectations when interacting with customers on Amazon Japan. This will help you gain excellent reviews.
This is not to make a generalization or stereotype of buyers in Japan. It is an overall observation of the cultural expectations when it comes to customer service.
Don't let these obstacles stand in your way! You have a chance to tap into one of the most profitable markets on the internet.
If your business is small and you are only planning to sell one product, you should be able to easily follow the steps listed above. If you have a bigger business strategy or do not think you will have enough time, you can easily solve them by hiring a third party company or freelancer.
In the end, it is better to know ahead of time what your customers expect on Amazon Japan in order to gain committed customers who will continue to buy from you over and over again.
So you can receive excellent customer reviews and positive tweets, like this one:
Founder of GraspBuild and CEO of WANOZEN LLC. Shunya is a web marketing and SEO specialist passionate about introducing energetic companies from overseas into the huge yet seemingly exclusive Japanese market smoothly for their successful business.
Love easy way to success...?
Do you need a help with succeeding in this huge and complicated Japanese market?